Taylor Swift — Reputation Stadium Tour
Opening acts: Charli XCX and Camila Cabello
Date Seen: May 8, 2018
Cost of Ticket: $205
Rating: 92%
Tonight Taylor Swift embarked on what might be one of her biggest career risks yet: a 53 date world stadium tour. Having had her personal life criticized, she stepped out of the spotlight and focused on trying to live as normal as possible. After nearly a 2-year hiatus, launching the largest-scale tour possible is a gutsy move. It's one thing to fill 15,000 seat arenas. It's quite another to fill 50,000+ stadiums. But on the kickoff show to her concert, she broke attendance records and set the tone for her tour.
Scale is everything for a stadium concert. Swift understands this perfectly. Her soaring stage was well used to provide digital backgrounds and video footage of the performance. It was a simple structure that was very well used. Kudos to her creative team that kept the footage fresh and artistic and playful. (I especially loved the pre-show video footage of fan reactions to the "Look What You Made Me Do" music video and the small cameo from her cat Olivia). There was no shortage of fireworks and pyrotechnics to make a big impact throughout the show. The stage itself spanned the entire width of the stadium and had catwalks that went into the crowd on both sides. No matter where your seats were, you had a clear view of Taylor either in person or through projected video footage. The stadium was also equipped with 2 satellite stages at the back of the stadium in which Taylor traveled to and from in mechanical orbs and snakes above the crowd. Often stadium tours can get tricky when it comes to sound but I watched the show from 2 different locations and both had great sound. Finally, all concert-goers were equipped with light-up bracelets that illuminated the stadium beautifully...60,000 people with synchronized wristbands is pretty awesome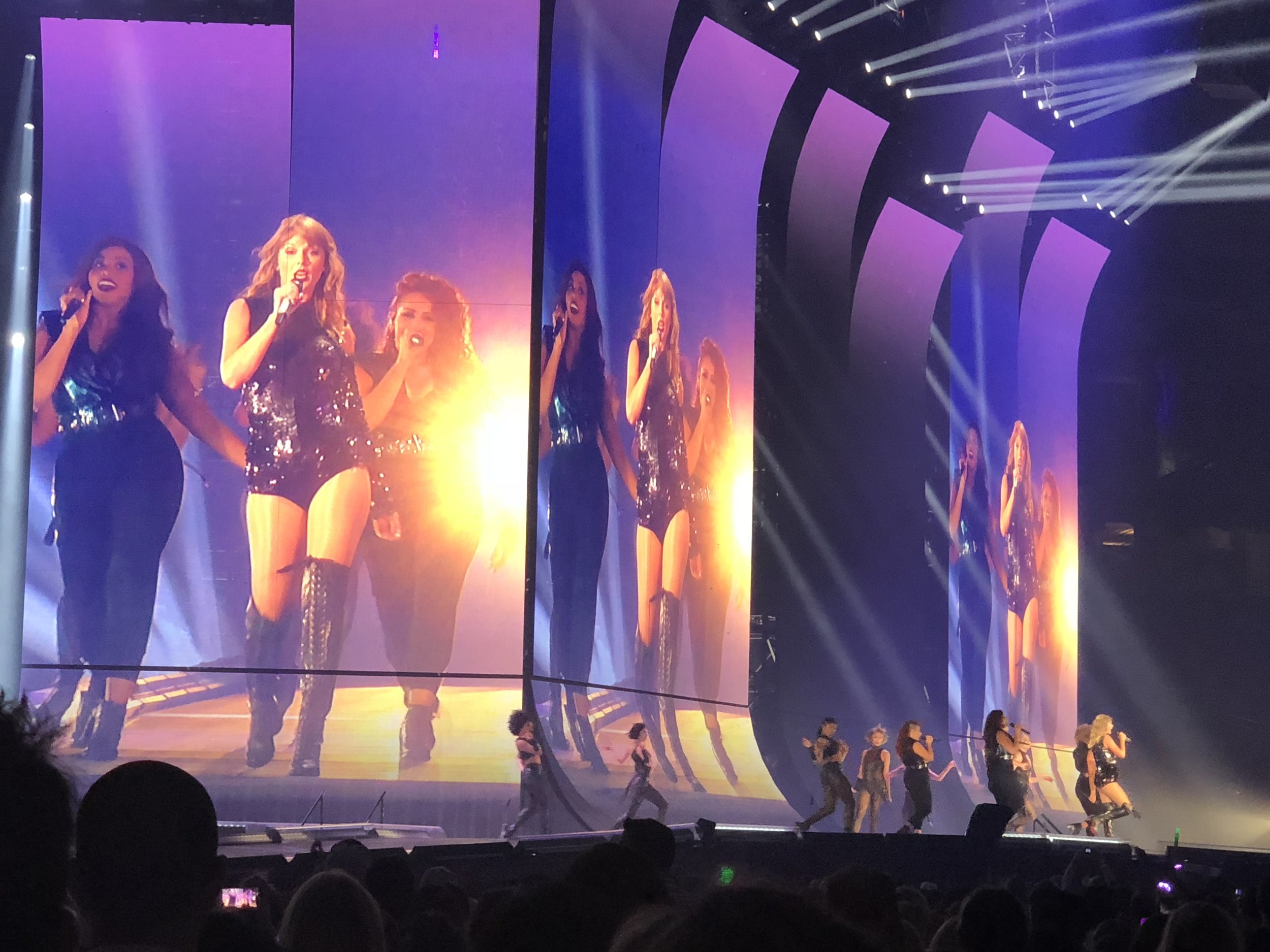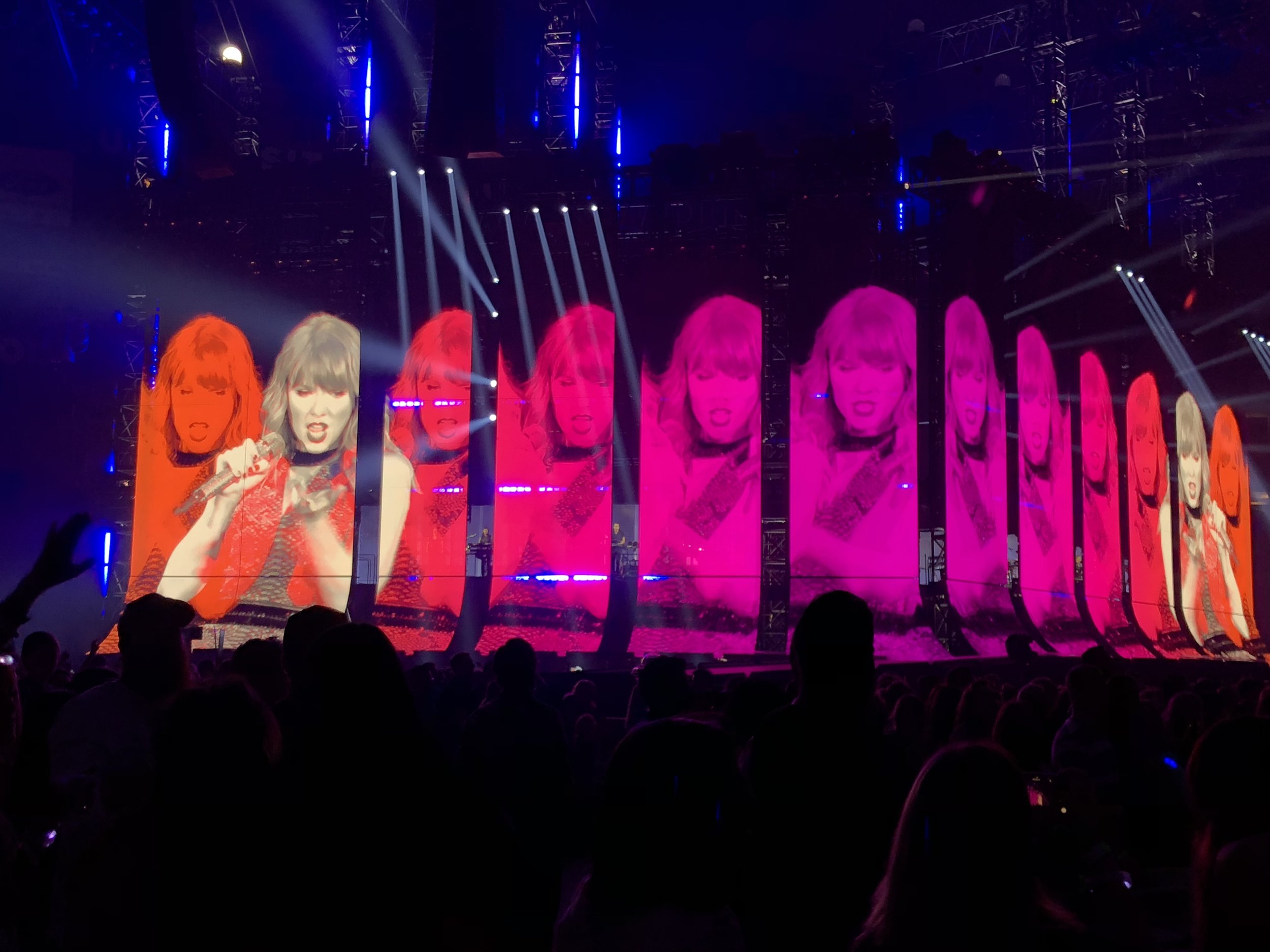 The show featured eight costume changes: ranging from embroidered black body suits to silver beaded mini dresses All were designed to allow Taylor to move and sparkle. While the costumes were glittery, only her rainbow shimmery dress used for "Shake It Off" had any wow factor. This was the only part of the show that I thought was disappointing. Taylor knows fashion and knows how to make it work for her—the basic costumes just left me underwhelmed.
One thing Swift and her team do excel at is artistry. Taylor continued the use of snake imagery as the main theme throughout the show. At various times the stage was filled with a serpent throne, robotic and inflatable reptiles, bejeweled snake microphone, and projected snake imagery. Swift even explains the abundance of imagery as she was famously referred to as a 'Snake' on social media. (Though Taylor didn't name names, Kim Kardashian was the one who labeled Swift a snake). Beyond the slithery imagery, Taylor's show had a more urban feel while being playful enough not to be a complete badass. It still had plenty of positive messages even if the show does have a darker feel than past tours.
Setlist can also make or break a show (Full setlist below). Swift did a great job of balancing old and new material: almost 50/50. The show started strong and plowed forward with hit after hit. Midway through the show, Swift did an acoustic set with just her and her guitar for a few songs. After that, Taylor kicked it into high gear and turned the stadium back into a dance party. Towards the end of the show, Swift sits down at her custom 'Reputation' piano and does a few more acoustic songs before she heads into the big finale. Surprisingly, there was no encore and the show wrapped up quickly and orderly.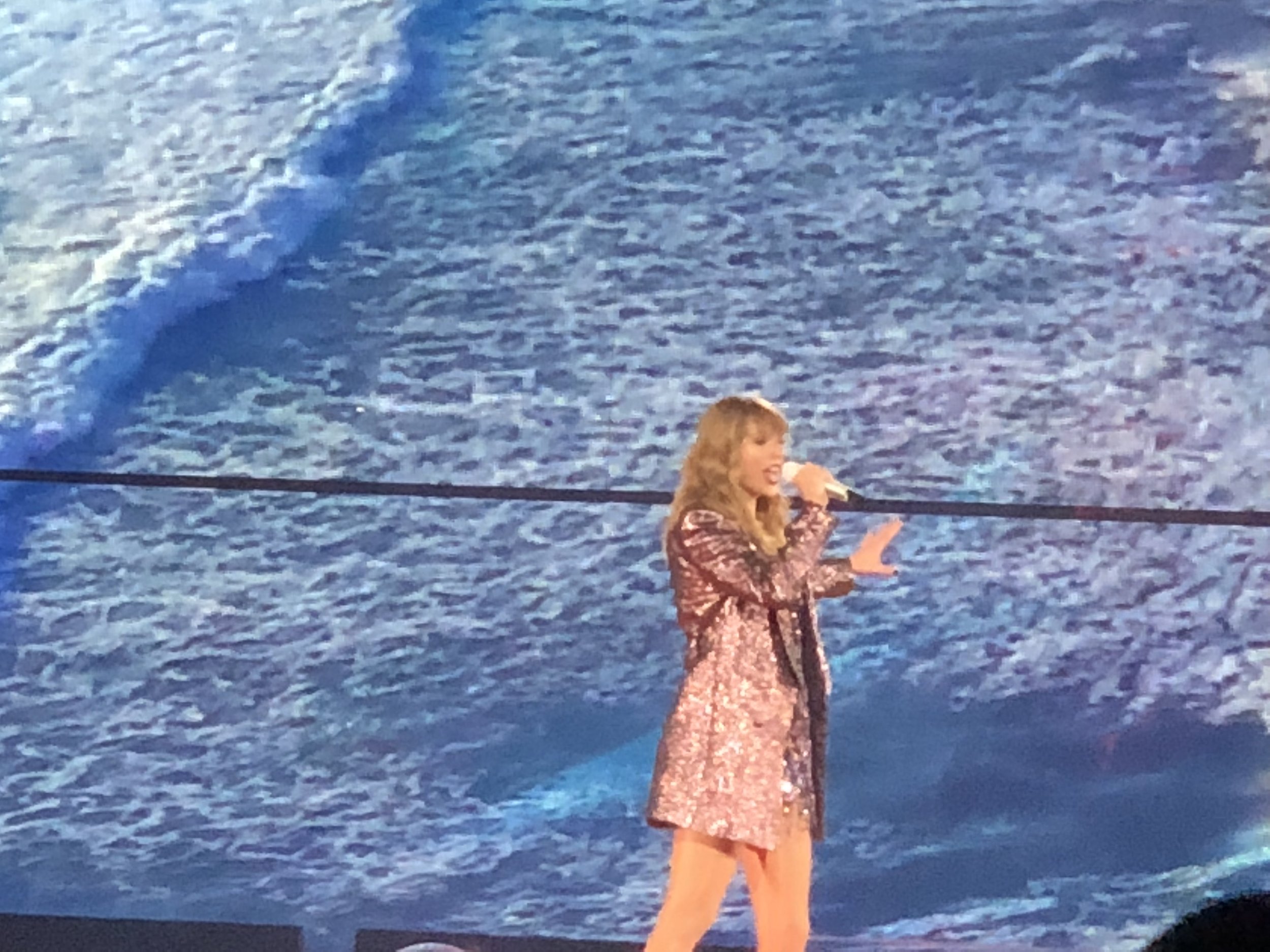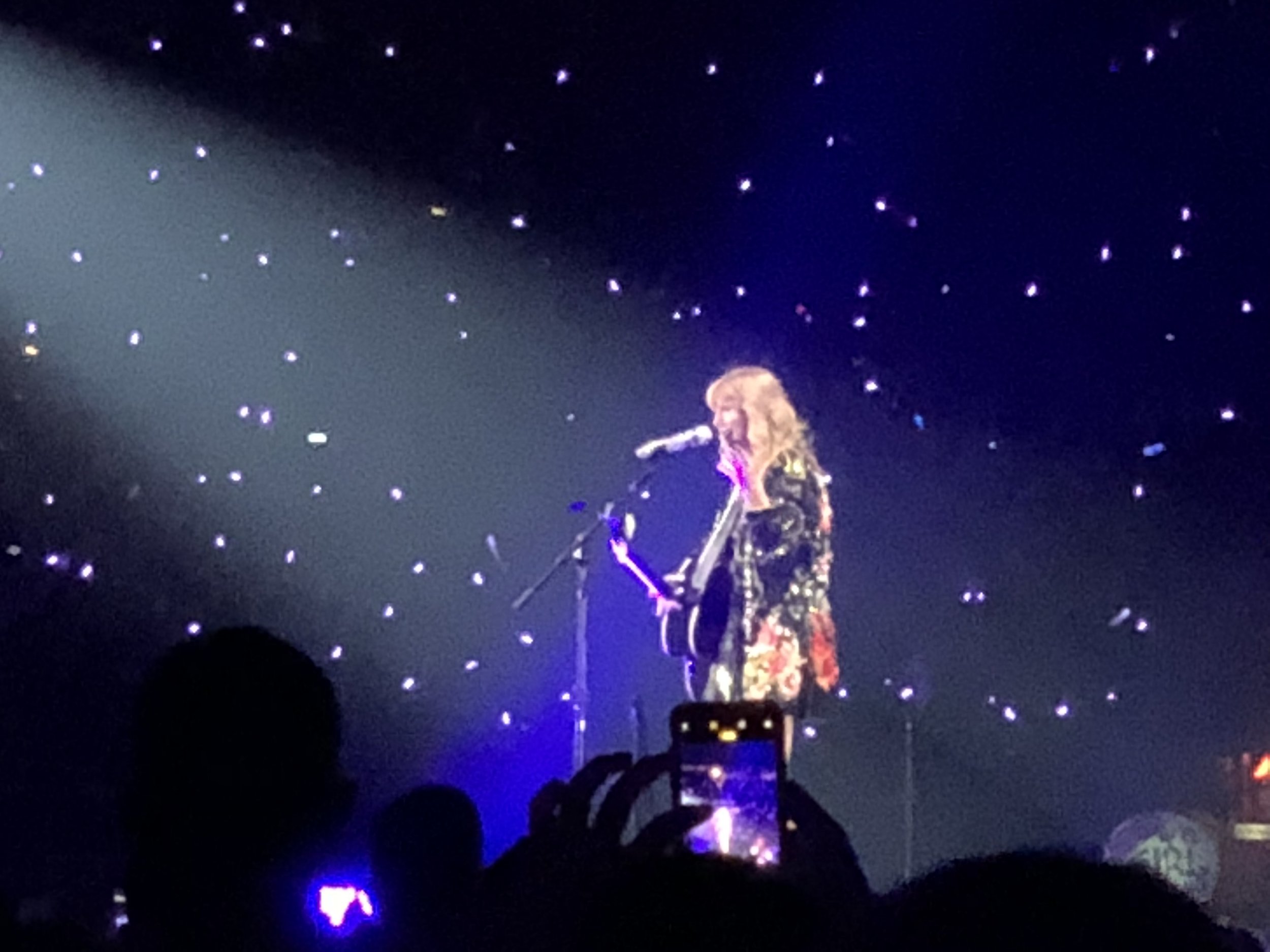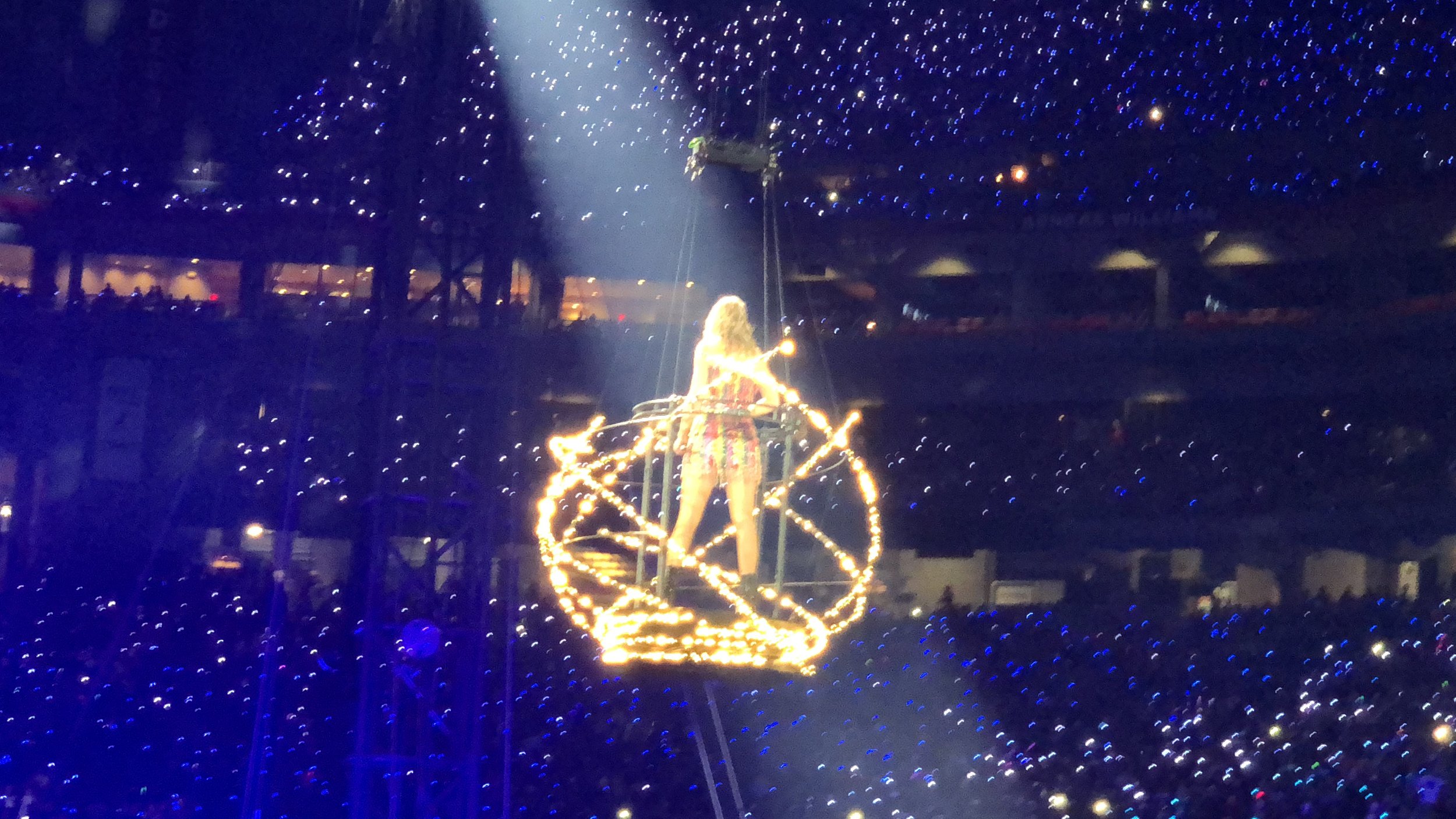 Performance wise, Taylor was at the top of her game. Her vocals were studio quality and she made the entire performance look so easy. Perhaps it's her passion and the return to the stage was important for her. There was never a moment when she wasn't strutting, dancing, working her 'tilted stage' or connecting with fans. If this is what a 2-year hiatus does, I suggest more performers take her lead. Regardless, she gave 110% at all times, vocally and physically.
There were two opening acts for Taylor: Charli XCX and Camila Cabello. Charli XCX pounded hit after hit and got the crowd warmed up. I like a few of her songs but I was surprised at the hits that included her vocals such as "I Love It" by Icona Pop and "Fancy" with Iggy Azalea. Plus she rocked her own hit such as "Boom Clap" and "Boys." Then Camila Cabello came out. I'm not sure how 1-Hit-Wonder Cabello got a higher billing than Charli XCX. Cabello sold her sex appeal and her failed attempts to twerk to fill the space that music should have filled. She saved "Havana" for the end and the rest was forgettable. However, though I'm not a fan, I will say that as a performer she has grown tremendously since I saw her open for Bruno Mars last summer. She needs to focus on the music and less on gyrating on her male dancers.
Few other things you NEED to know about the tour:
- You CANNOT bring your purse into the show. They enforce a very strict clear-bag policy. See below
- You can't bring in any of the following: battery packs (I kept mine in my pocket), lights of any kind, glowsticks, professional cameras, studded jewelry, unusually long wallet chains and spurs, banners with poles, banners and signs larger than 11"x17", political signage, audio/video recording devices, road and emergency flares, pepper spray/mace.
- Arrive early. Last night there was 60,000 in Glendale and it was an organized zoo.
- Tickets are offered only via mobile devices. If you purchased multiple tickets for people, be sure to transfer tickets to them for ease of entry.
- Prebook your parking or better yet, get a taxi or Uber. My one caveat is to be careful of surge pricing on Uber.
TAYLOR SWIFT REPUTATION STADIUM TOUR SETLIST
…Ready for It?
I Did Something Bad
Gorgeous
Medley: Style/Love Story/You Belong With Me
Look What You Made Me Do
End Game
King of My Heart
Delicate
Shake It Off with Charli XCX & Camila Cabello
Dancing With Our Hands Tied
All Too Well
Blank Space
Dress
Mash-Up Bad Blood/Should've Said No
Don't Blame Me
Long Live
New Year's Day
Getaway Car
Call It What You Want
Mash-Up We Are Never Ever Getting Back Together/This Is Why We Can't Have Nice Things